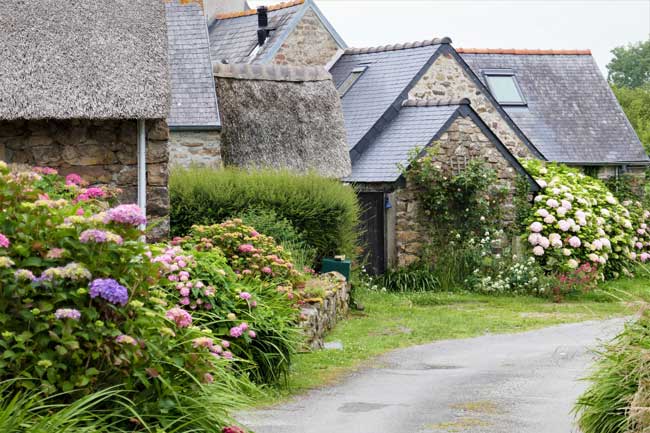 Not many Americans make it to Brittany. France's northwest cul-de-sac that reaches out into the Atlantic Ocean like a crooked thumb is just too far off the traditional loop trip, the tourist route that takes busloads of visitors from Paris to the castles of the Loire Valley, then up to the Normandy beaches.
Travel in Brittany
The wilds of Brittany are out of the way, and very different from the rest of France. Brittany has its own language, its own music, its own food and drink and its own laws. Much like Wales and Scotland are to the U.K., Brittany is independent with a strong Celtic background steeped in tradition and legends. Oh yes, and it is wild.
If you see a picture of a lighthouse about to be engulfed by a towering wave, that's Brittany. The coast is rugged, rocky and huge. One-third of France's coastline is in Brittany. The villages are all made of stone, but the coldness is set off by brilliant marine-blue shutters and doors and hundreds of colorful flower boxes and gardens.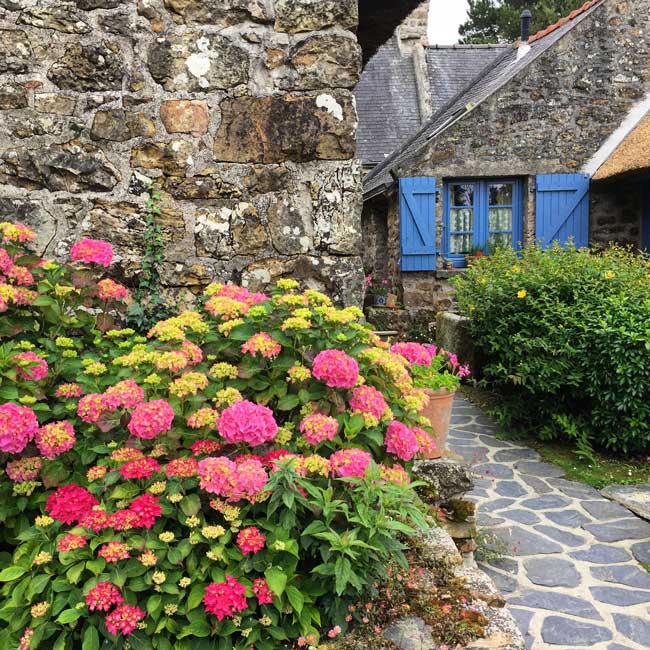 The bays are protected by fearsome castles and fortresses, the tides are huge, leaving boats and even towns dry-docked at low tide. The people are tough and stoic, as is anyone who makes their living from the sea.
And yet, Brittany is spectacularly beautiful. It's a rare calendar of France that is not filled with colorful pictures of doors, windows, flower baskets and gardens from Brittany, where the gulf stream provides a temperate climate that can support a wide assortment of plants and even palm trees.
So when my brother, who has lived in France for 40 years and knows every corner of it, said, let's spend a week in Brittany, the only answer was, why not?  Here's some of what we discovered.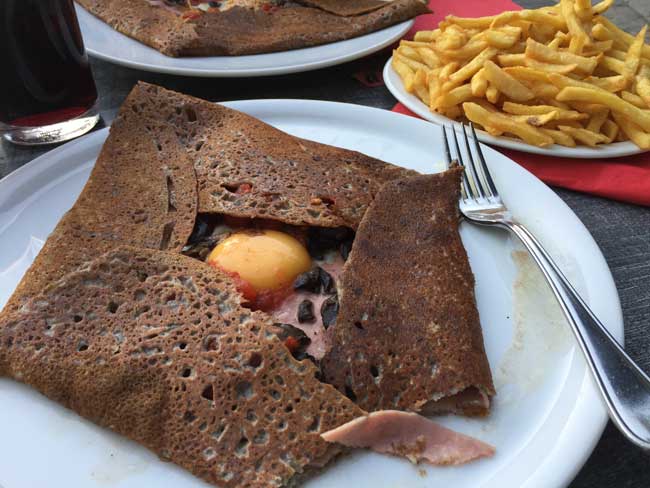 Cuisine in Brittany
Crêpes are the specialty of Brittany, or more specifically, galettes, which is a version popular in upper Breton made with buckwheat, eggs, milk and melted butter, made into a thin dark pancake and then filled with everything you can think of.
The traditional is ham, egg and cheese, but you can get them stuffed with scallops, shrimp, mushrooms and more (but please limit yourself to four fillings, they say, or you will ruin the taste of the crepe itself). The menus offer baffling combinations of ingredients, but you can just order individual crepes and have them filled with whatever you want.
Seafood is naturally the other dish, especially oysters. The seafood markets are colorful and exciting places filled with strange sea life you have never seen, let alone eaten.  There are fresh blue lobsters (yes, lobsters of Brittany are blue), crabs, scallops and mussels.
At the more expensive cafes, you will ogle at seafood towers — gigantic multi-level platters for two of lobster, fist-sized shrimp, oysters, and crab legs, at which a French couple will pick and chew for hours.
More reasonably priced and available everywhere is the other dish of Brittany, moules marinieres — mussels steamed in white wine and served with a mound of fresh frites, (never call them French fries!). Pick your restaurant by strolling by the cafes and examining the fries – some are fresh cut, but some to avoid look frozen and machine cut.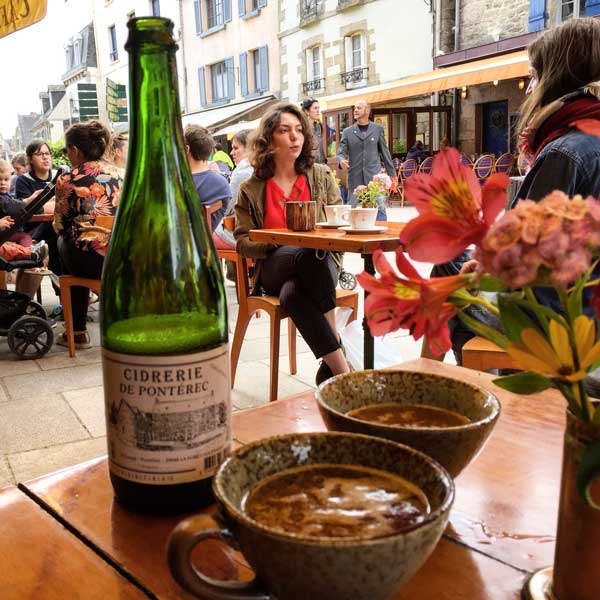 Breton Hard Cider
The drink of choice (especially with crepes) is Breton hard cider, a natural sparkling alcoholic beverage made from apple juice and served in earthenware cups. There are hundreds of local farms producing them – the best local ones come in bottles that look like champagne bottles with a wired cork. The taste is unlike any commercial cider you have had – closer to the wine family than the beer. 
Continued on next page