Welcome to Money Diaries, where we're tackling what might be the last taboo facing modern working women: money. We're asking women how they spend their hard-earned money during a seven-day period — and we're tracking every last dollar.
Today: a Registered Dietitian working in Healthcare who makes $67,000 per year and spends some of her money this week on teeth whitening strips.
Occupation: Registered Dietitian
Industry: Healthcare
Age: 30
Location: New York, NY
Salary: $67,000
Paycheck Amount (biweekly): $1,745.11 (post-tax and deductions)
Gender Identity: Woman
Monthly Expenses
Rent: $1,325 (I split rent for a one-bedroom with my boyfriend)
Loans: $228 (fixed rate personal loan, will be paid off October 2020)
Utilities: $0 (my boyfriend pays for internet and electric — we split the rent, but he pays utilities since his salary is significantly higher than mine)

Credit Cards: $200 (paying down a surprise vet bill — I have pet insurance now)
Invisalign: $400 (this will be paid off in five months)
Pet Health Insurance: $45
Netflix: $12.99
Cell Phone: $85
Savings: $200 (this is the minimum I save each month, if I have more left at the end of the month I'll usually put it in savings, I want to save more after I pay off my Invisalign)
Health/Vision/Dental Insurance: $230 (pre-tax)
Monthly Unlimited Metrocard: $127 (pre-tax)
401(k) Contribution: $100 (pre-tax, my employer also adds a set amount every month)
HSA: $33.34 (pre-tax)
Day One
6 a.m. — I wake up on time, but I'm groggy since I took melatonin last night to help me fall asleep. I get up and take my dog outside then have breakfast when I come back. I make coffee and a smoothie then I make a PB&J and slice an apple for lunch. I also pack a soy yogurt. Around 7:15, I take a shower and get ready for work. I am out the door by 8:20.
12:30 p.m. — I eat my packed lunch and buy a ticket for an event next month. It is a Halloween event… for dogs. It's called "The Best Dog Day Ever: Halloween Edition" and I have no shame. $36.05
6 p.m. — I leave work after a pretty regular day. I stop by the grocery store to get stuff to make salads for dinner (arugula, sweet potato, pumpkin seeds, dried cranberries, olives, dressing, baked tofu) and some other things we need. Then, I head home. $50.82
7 p.m. — After I take my dog for a walk, I make dinner. My boyfriend ends up having to work late, so I eat without him, but set aside an extra portion for him. Once he gets home we hang out and watch TV for the rest of the night before hitting the hay around 10.
Daily Total: $86.87
Day Two
6 a.m. — I start work later on Tuesdays so I can work out in the morning and take my time getting ready. I go for a run around 6:30, then come home and take my dog for a walk. I make my coffee and smoothie for breakfast and pack leftover salad and two
11 a.m. — On my way to work I stop at an ATM to get cash out. It's my nephew's birthday, so I slip a twenty into a card and pop it in the mail. $20
3 p.m. — I spend a lot of time charting at work, especially towards the end of the month. I basically have to write a monthly note for each of my 100 or so patients after I check in with them and review their lab work. This is what I work on for most of the day aside from one meeting with a patient. I eat my packed lunch while I am reviewing notes.
7 p.m. — Time to head home. On my way, I stop at Petco and buy treats to fill up the Furbo dog camera I have (it's a dog cam that dispenses treats from afar so I can give my pup treats even when I'm away).
I have to get a certain brand that is small enough to be launched out of the camera. I categorized this spending as entertainment since tossing my dog treats while I'm at work is fun. $8.37
8:30 p.m. — I get home to find my boyfriend has made dinner — what a treat! He made veggie burgers and tater tots, so I eat that and catch up with him then throw a load of laundry in the washing machine (a godsend to have in NYC) and start to get ready for bed. I hit the hay around 10.
Daily Total: $28.37
Day Three
6 a.m. — I wake up and absolutely do not want to get out of bed. I linger for a few minutes then drag myself out of bed to feed my dog and take him for a walk. I make coffee and a smoothie and pack my lunch then get ready for work.
I pack the same lunch as Monday, PB&J, apple slices, and a soy yogurt. I have to leave slightly early today because I have an early meeting with a doctor to discuss a few of my patients.
1 p.m. — Work is pretty busy with patient meetings and charting. I take a break to eat my packed lunch and browse Sephora's website. I debate purple shampoo and mascara from Milk (a brand I can't get enough of right now). After about 30 minutes, I decide to hold off and I get back to work.
6 p.m. — On my way home I stop to pick up soy milk and fruit at the grocery store across the street from my building. It's actually cheaper at Whole Foods, but I don't feel like walking over there. $9.52
6:30 p.m. — When I get home, a package is waiting for me! I ordered a few pairs of boots and some fall skirts from Nordstrom Rack last week. It's still too hot to wear them, but I'm hoping the temperature will start to drop soon).
I drop my package off in the apartment and take my dog for a walk. There are tons of dogs in my neighborhood so I usually see the same people outside and chat with them (and love on their dogs, obviously).
Once home I rummage through the kitchen and realize I barely have any food. I end up having soup and crackers for dinner — I really need to go grocery shopping. I spend the rest of the night hanging out with my dog and watching Netflix.
Daily Total: $9.52
Day Four
6 a.m. — I wake up and go for a run. I run over to a nearby park with a track and do a few miles. I don't want to run back home so I grab a Citibike and bike to my apartment. I LOVE Citibike.
It's super convenient and I learned that my health insurance company will reimburse me for the cost of the membership if I use it 50 times in a six-month timeframe. I am up to 37 rides, so I'm almost there. Love a good health insurance perk.
7:30 a.m. — When I get home I shower and get ready for work. I have a smoothie, but no time for coffee. I throw some random snacks in my bag for lunch and I'm out the door.
I used to make my smoothies and drink them on my way to the subway, but since I got the Invisalign I have to have it at home. You're not supposed to eat or drink (anything besides water) with them in and then you have to brush and floss before you put them back in. It's tedious, but they're also fixing my teeth without having to have braces at age 30, so I'll take it.
9:30 a.m. — I thought maybe I could make it through the day without coffee. I was wrong. I drink the free coffee in the break room — it is really strong and kind of gross, but it does the job.
12 p.m. — I eat my random snack lunch (two tangerines, a soy yogurt, and a small protein bar) and do some charting. It's a pretty calm day at the office, thankfully.
6 p.m. — On my way home I stop at Lululemon to buy a running headband. I've been growing my hair out and it is just now long enough for a ponytail, but there are a lot of strands still hanging out, so I want a good headband that will stay in place. $13.07
7:30 p.m. — I get home and see that my boyfriend has bought a meal kit from the AmazonGo store for dinner. It's yellow curry with tofu and jasmine rice and it's actually pretty delicious. We spend the rest of the night hanging out on the couch.
I get in bed around 9 and do a little online shopping before I fall asleep. I end up getting a few things for my dog — dental bones, shampoo, waste bags, and a hoodie. He doesn't really need the hoodie, but I think it will be cute. $61.95
Daily Total: $75.02
Day Five
5:45 a.m. — I have to get up a little earlier than usual today because I have a dentist appointment at 8. I make coffee and a smoothie then get ready to leave. The dentist tells me that I am technically done with the Invisalign treatment, but I have to wear retainers full time for six months.
I'm looking forward to the day when I can just eat stuff without planning ahead and bringing a toothbrush everywhere, but it's worth it because I am really happy with the results.
After my appointment, I head to work a little early and get ready for the day. I have to follow up with some patients from earlier in the week, plus I have a couple of meetings and of course, more charting.
12 p.m. — I have the same sad random snack lunch as yesterday. I swear I am going to the grocery store after work today.
4:30 p.m. — I leave work and I go to Whole Foods on my way home. I buy pasta, sauce, veggies, meatless meatballs, a bagel, two sourdough rolls, soy milk, a dark chocolate bar, mini muffins, and assorted fruit. I usually only buy items that are the 365 brand because it tends to save me money. $28.68
5:30 p.m. — I get home and put the groceries away then take my dog to the dog park. I let him run around and play for about an hour. I love taking him to the dog park and watching all of the dogs play together. It's adorable and hilarious and I consider it to be free entertainment. Once he gets all of his zoomies out, we walk home.
7 p.m. — I make myself and my boyfriend dinner (although he has to work late so I stick his portion in the fridge for when he gets back). I eat while watching the second season of The Chilling Adventures of Sabrina on Netflix. I have to be up early to prepare for my long run in the morning, so I hit the hay at 10.
Daily Total: $28.68
Day Six
5 a.m. — Saturday is the day I do my long run ( I am training for a marathon) and I like to eat something before I go, but I have to wait a few hours after I eat to run or else my stomach will get upset.
I eat half of a blueberry bagel and drink a cup of coffee. I have to do 20 miles today and I want to do the last five miles with my running club at 10, so I plan to leave at 7:15 to get the first 15 miles in.
11:45 a.m. — The run is done and I survived! I hang out with people from the club and stretch for a while. I then start making my way to Target before heading home.
I get to the L train and realize it's down for the weekend (love the MTA!!!), so I find a Citibike and just kind of roll my sore body to the Target. I get pumpkin coffee, teeth whitening strips, and a sugar-free vitamin water. $34.28
1 p.m. — I attempt to walk down to the J train, but I get about halfway there, decide I'm too tired, and give up. I Lyft the rest of the way home. $10.17
1:30 p.m. — When I get home, I shower off then eat the other half of my bagel and make a protein shake with soy milk and Whole Foods 365 brand plant-based protein powder.
My boyfriend calls me to tell me he is down the street at a food festival and asks me if I want him to bring me a sandwich. Yes! We eat our sandwiches together and catch up on our days.
5 p.m. — My boyfriend's dad and his wife come over. We hang out in the apartment for a while then we walk around a bit. Around 7 we decide we're hungry so we go to By Chloe to grab food (my boyfriend pays). After we eat dinner, my boyfriend's dad wants to get dessert so we walk over to Van Leeuwen to get ice cream.
I love Van Leeuwen — they have the absolute best vegan ice cream in the city. His dad pays. We take our ice cream, run up to get my dog, and then walk along the waterfront for a bit. They head home around 9:30 and I am dead tired so I go to bed as soon as we get home.
Daily Total: $44.45
Day Seven
6:30 a.m. — I wake up, my legs are still pretty sore. I make coffee (the new pumpkin coffee from yesterday!) and eat three mini muffins. After a couple of hours of laying around, I do a light workout in the apartment — just stretching and abs. Then I eat the leftovers from last night and a sourdough roll. I then get dressed and ready to go visit my boyfriend's mom.
12 p.m. — My boyfriend rented a Zipcar, so we can drive out to his mom's house on Long Island. She wants to do something outside so we go to a botanical garden near her house and walk around for an hour or so. We then go back to her house and have dinner with my boyfriend's sister and her fiancé. We head out around 8.
10 p.m. — We get home and take the dog for a walk together. After the walk, I take a quick shower, get in bed, and fall asleep almost immediately.
Daily Total: $0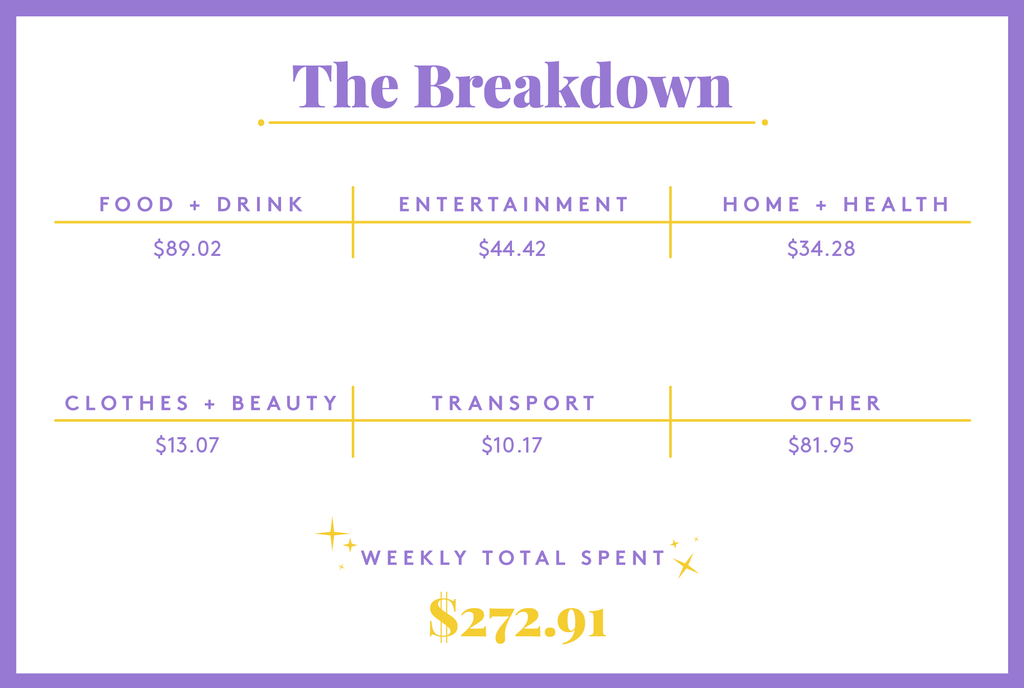 Money Diaries are meant to reflect individual women's experiences and do not necessarily reflect Refinery29's point of view. Refinery29 in no way encourages illegal activity or harmful behavior.
The first step to getting your financial life in order is tracking what you spend — to try on your own, check out our guide to managing your money every day. For more money diaries,